Jeff Farias is an Arizona Talk Show Host who asserts he is "Proud to be a Liberal". After his release from KPHX where he did a provocative drive time show for several years, Jeff has been heard on a variety of Arizona radio stations. He also did a long online stint called "The Jeff Farias Show" live from Gecko Park Studios in Phoenix.
Check: www.TheJeffFariasShow.Com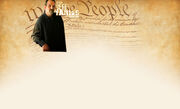 Ad blocker interference detected!
Wikia is a free-to-use site that makes money from advertising. We have a modified experience for viewers using ad blockers

Wikia is not accessible if you've made further modifications. Remove the custom ad blocker rule(s) and the page will load as expected.